- Baby triplets were born with craniosynostosis
- Their condition affects development and eyesight
- But they underwent a first-ever surgery, and look at them now!
New York 6-month-old triplets underwent a groundbreaking operation to repair a rare skull syndrome they were born with, called craniosynostosis.
This extremely rare condition is the first time it has affected triplets. Only about one in every 1,800 to 3,000 children are born with it.
The skulls of Jackson, Hunter and Kaden Howard failed to fully develop, causing pressure, and abnormally shaped heads. This can cause headaches, learning difficulties and eye problems.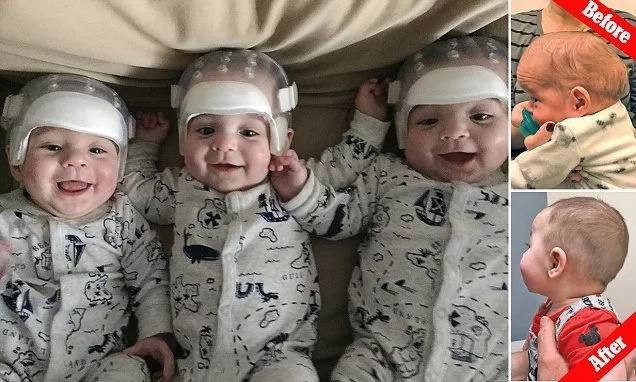 75 per cent of those with craniosynostosis are boys. Most children thankfully recover well after surgery.
READ ALSO: Unarmed young man allegedly shot by vigilante officer in Abia state (photo)
However, this is a condition in which one or more of the fibrous sutures in an infant (very young) skull prematurely fuses by turning into bone (ossification), thereby changing the growth pattern of the skull.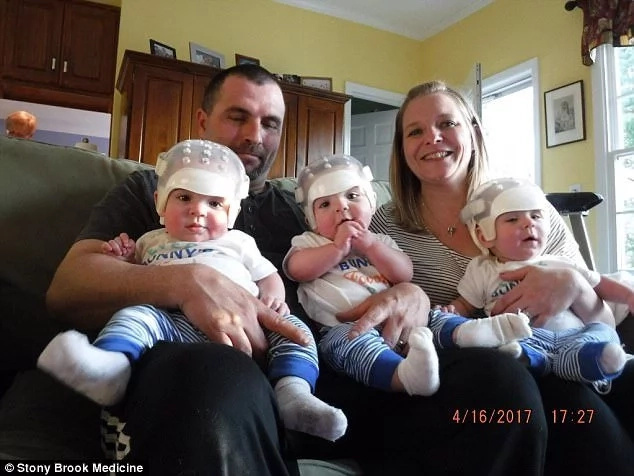 Doctors removed a bone from each of the triplets' heads when they were only nine weeks old, and six months later they are developing satisfactorily. "They are certainly a handful! But we wouldn't change it for the world," their father Michael said.
Their mother, Amy commented saying: "was nervous before the surgery for sure. But now they're doing great. It's amazing."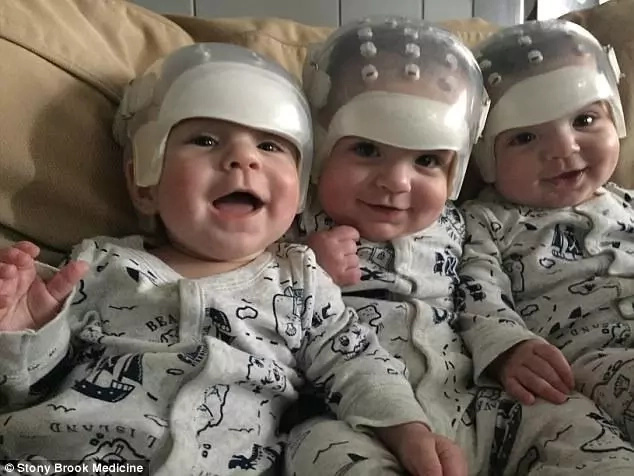 READ ALSO: Young lady caught on camera drunk after drinking spree
Two of the triplets are identical, and were born with sagittal synostosis. The third one, Kaden, who is fraternal, had metopic synostosis. These conditions are the same, but involve different bones in the skull.
"If you crunch all the numbers, the chance of having triplets with these conditions is one in 500 trillion," the boys' doctor Dr David Chesler said.
Before being born, the triplets' check-ups revealed nothing out of the ordinary, but at birth, Dr Chesler immediately saw something was wrong.
"Very often I wouldn't do a CT scan because based on the shape of the head I can make a diagnosis. But in this case we decided it was best," he said.
Watch video of the triplets below:
Watch related video of 5 signs you may get a heart attack below:
Thank God!
Source: Gossip.naija.ng