- A Kenyan woman has badly spoilt her boyfriend's reputation on social media
- The woman, through a post on a Facebook group revealed how her boyfriend likes borrowing and carrying food from events
- She claims her boyfriend's habit has gotten out of hand, and has been giving her sleepless nights
Gone are the days when ladies used to suffer in silence. Today, there are countless platforms where ladies can share about their different experiences.
There are some groups on Facebook where members not only reveal shocking confessions, but also share about strange stuff they experience daily.
A certain lady who goes by the name 'Mtaka Yote' recently caused a stir on social media, that must have left her boyfriend covering his face in shame.
READ ALSO: 16-year-old boy jumps off building because his parents seized his PS4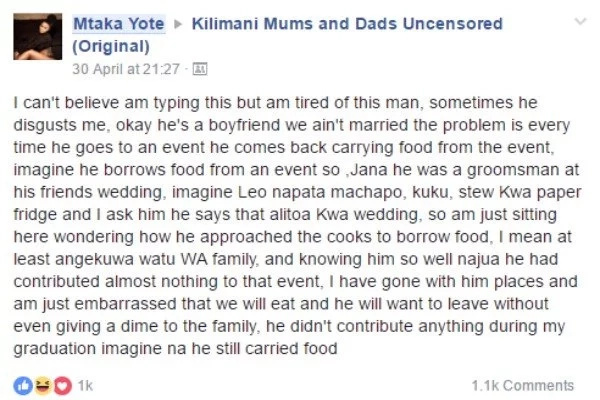 READ ALSO: Boy wishes his friend 'happy birthday', causes a stir on social media
According to a post shared on the Kilimani Mums and Dads Facebook page, the lady 'Mtaka Yote' has been dealing with a lot of humiliation thanks to her boyfriend's bad manners.
Mtaka Yote revealed how her boyfriend is used to carrying food from events, a habit that gives her sleepless nights.
Sharing the story on Facebook, the frustrated girlfriend wrote:
''I can't believe I'm typing this but I'm tired of this man, sometimes he disgusts me, okay he's a boyfriend we ain't married. The problem is every time he goes to an event he comes back carrying food from the event, imagine he borrows food from an event so. Jana he was a groom at his friend's wedding, imagine Leo napata machapo, kuku, stew kwa paper fridge and I asked him he says that alitoa Kwa wedding.
So I'm just sitting here wondering how he approached the cooks to borrow food, I mean at least angekuwa watu WA family, and knowing him so well najua he had contributed almost nothing to that event, I have gone with him to places and I'm just embarrassed that we will eat and he will want to leave without even giving a dime to the family, he didn't contribute anything during my graduation imagine na he still carried food''
Meanwhile, here are reasons why you should never skip breakfast:
Source: Gossip.naija.ng