- Ontlametse Phalatse, the first black girl diagnosed with progeria who defied expectations to celebrate her 18th birthday recently has died
- She died on Wednesday morning at a Pretoria hospital
- She recently completed her high school education and had hoped to become a motivational speaker
Ontlametse Phalatse, the first black girl diagnosed with progeria who defied expectations to celebrate her 18th birthday recently died at the Dr George Mukhari Academic Hospital in Ga-Rankuwa, South Africa on Wednesday, April 12.
Ontlametse was one of two South African young women suffering from progeria, a rare genetic condition that causes the body to age at a rapid rate.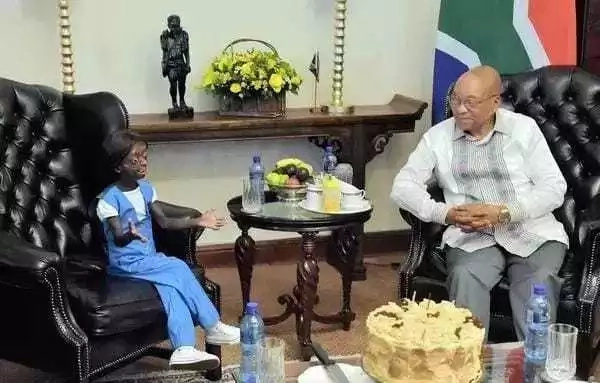 Doctors diagnosed her with the condition in 2009 and said she would not live beyond the age of 13. However, she exceeded expectations of everyone to see her 18th birthday, which she marked with a meeting with South African President Jacob Zuma on Saturday, March 25.
READ ALSO: Guy blasts girlfriend after revealing a guy in her office always brings her coffee every morning (photo)
Ontlametse was known for her bubbly and infectious personality despite the overwhelming challenges she faced. During her meeting with President Zuma, she joked: "I call myself a first lady because I'm the first black child with this disease. Which other black child do you know with this disease?"
READ ALSO: Herbalist spotted preparing juju at Allen Junction (photos)
She also completed her high school education recently and had hoped to become a motivational speaker and life coach.
She and her family established the Ontlametse Trust to sensitize the public about her condition as well as coordinate efforts and funding towards her medical needs.
Watch a video tribute of Ontlametse below:
However, her 18th birthday is even more remarkable because doctors predicted she would not live beyond the age of 13 but her bubbly and bright personality, she defied all expectations.
Ontlametse's journey is remarkable. Her mother, Bellon Phalatse, says she was normal when she was born but started having skin rashes after a few months. Before her first birthday, her nails, hair and skin were already falling off due to the condition.
Watch related video below:
RIP!
Source: Gossip.naija.ng