- A former dope dealer has defied the odds to graduate with a Bachelor's degree
- He got shot during a dope-related shootout and became paralysed from the neck down
- He hopes to make a difference in his field of study
A former dope dealer in South Africa's KwaZulu-Natal province has picked up the shattered pieces of his life and defied the odds to graduate with a Bachelor of Social Science degree.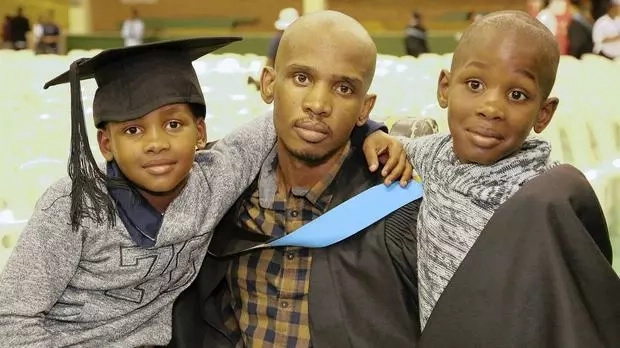 Seven years ago, Thulasizwe Cedric Mathenjwa suffered a gunshot wound during a dope-related shootout that left him paralysed from the neck down.
He subsequently spent a long, 15-month recovery process in hospital, and the experience motivated him to turn his life around for the better.
READ ALSO: Meet Fridah Mwololo 26-year-old US army engineer from Kenya (photos)
He applied to study for his degree at the University of KwaZulu-Natal and graduated earlier this week with a major in geography and environmental management.
Thulasizwe spoke to a local reporter about his experience and said: "After I finished my matric I was hustling. I got involved with dr*gs and crime. My sons were 3 and 2 years old when I was shot. I decided then that I was going to change my life and be a better person."
READ ALSO: Man arrested after his oyibo wife discovered he had married 14 women in Nigeria
He added that while his paralysis made his studies challenging, his determination and wish to transform his life spurred him on.
His lecturers at the university praised Thulasizwe for his passion for his studies and indicated that he was eager to make a significant contribution in his field of study.
Watch the video below:
Source: Gossip.naija.ng