- Though 10.3 million South Africans reportedly have flush toilets in their houses, some 4.3 million people still rely on pit latrines
- At least 409, 881 households have no access to proper sanitation according to latest reports. But there is hope for this group as one company finds lasting solution to their sanitary problem
Pit latrines could soon be history in South Africa after a company invents water-saving ceramic flushing toilets for those struggling with poor sanitation in rural and some urban areas.
READ ALSO: DSS arrests, detains Ifeanyi Ubah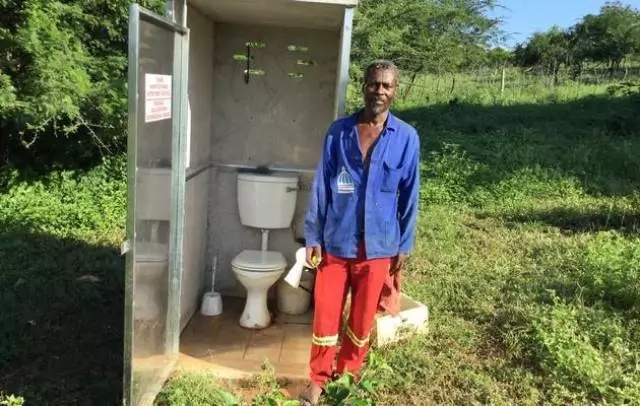 The innovation, which has reportedly excited even President of South Africa Jacob Zuma, could be the answer to sanitation problem across the country.
Statistics indicate that over 10.3-million households in South Africa have access to a flush toilet, and slightly more than 4.3-million households still rely on pit latrines. Unfortunately, some 409'881 households still do not have access to proper sanitation.
To help put to rest the sanitation challenge in the country, KwaZulu-Natal, a company that specializes in providing sanitation solutions, has come up with a new innovative product that could be the ultimate solution. It is called "Lali Loo".
Lali Loo derives its name from a Xhosa word ilali' which means a village. It can be used where there is no sewer infrastructure.
READ ALSO: Girl trapped in body of aging pensioner celebrates 18th birthday with President (photos, video)
Lali Loo was one of the innovations on display at the World Water Summit and Expo in Durban, South Africa.
Zuma reportedly took some time' after receiving the United Nations World Water Development Report 2017' to inspect the toilet and was full of praise.
The Lali Loo has been piloted in Zuma's home village of Nkandla' former president Nelson Mandela's Qunu village in the Eastern Cape' Khayelitsha in Cape Town' Sekhukhune in Limpopo, and Botshabela in the Free State.
The out-of-the-box toilet reportedly uses just 1.5-litres of water to flush' compared to the normal seven to nine litres per flush.
And there is more. The new toilet also has an optional 50-litre reservoir tank' which provides 33 flushes. Additionally, the tank can be used to store rain-harvested or grey water from laundry and dish washing.
READ ALSO: Man ignores 'haters' showers praise on wife who reportedly snatched him from her bestfriend
Watch video of the newly unveiled village toilet in South Africa:
Source: Gossip.naija.ng