- A proud mother of four gave birth to a child with two heads. The boy died shortly after birth
- It is reported that the parents did not know about the two heads until a day to operation. They were shocked, but ready to accept the child, whatever the circumstance
- Whereas the medics described the baby as 'miraculous child', the parents said he was a 'wonderful gift from God'. Here is what actually happened when the boy was conceived
A 30-year-old mother gave birth to a baby boy with two heads. The child, however, died a few hours after his birth.
The mother of four delivered the 'special' child via Caesarean section at SP Hospital in India. She reportedly told doctors that she had no idea that she was carrying a child with two heads.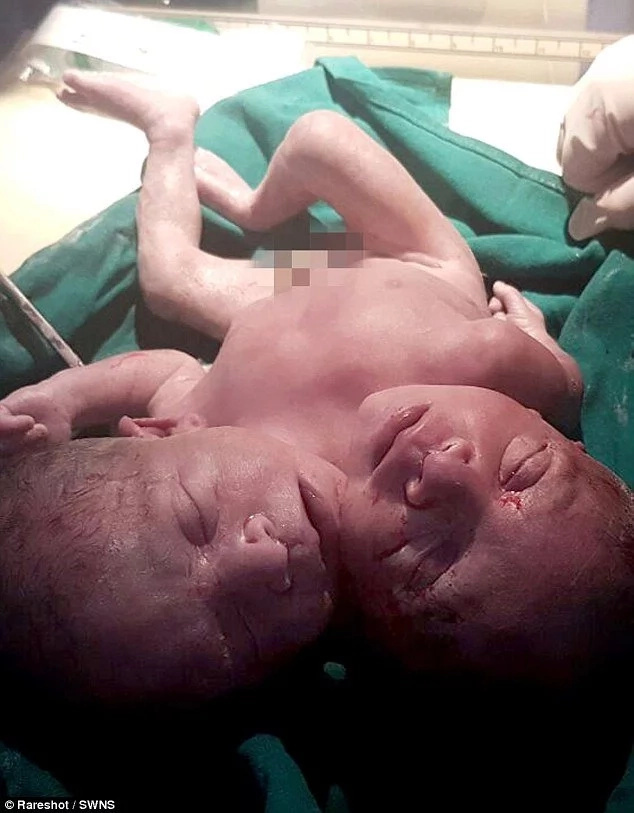 PAY ATTENTION: Get all the latest gossips on NAIJ Gossip App
"The mother, together with her husband, only came to learn about the child's condition a day to operation," a local daily revealed.
The parents, Mrs Nsreen and her 34 year old husband, Mr Mohammad, allegedly discovered about their child's condition following an ultrasound scan.
However, the seemingly proud couple made it clear that they were not going to reject or despise their child, no matter the circumstances surrounding his birth.
And when the child was finally born, the doctors said he was a "miraculous child. As for the parents, "he was a wonderful gift from God".
READ ALSO: 11-year-old girl used as human shield by gangsters survives despite bad head trauma (photos)
Medical experts say the probability of giving birth to Siamese or conjoined twins is once in every 100,000 births.
The conjoined twins, according to the existing literature, develop when a woman produces just one egg that doesn't fully separate after being fertilised.The growing embryo then starts to split during the first few weeks of pregnancy, but stops before the process is finalised. The partially separated egg then develops into a conjoined foetus.
"Unfortunately, most conjoined twins die because their organs cannot support their bodily needs," experts say.
Medical statistics show that an estimated 40 per cent of conjoined twins are delivered when they are already dead, whereas about 35 per cent die shortly after.
READ ALSO: After 9 miscarriages and 4 IVF, lady conceives naturally and births her bundle of joy (photos)
Watch video of conjoined twins who share a single body with two heads:
Source: Gossip.naija.ng