- Man claims that he is not responsible for the pregnancy he has been linked to.
- He says that he was last with the lady 13 months ago
- What was a simple update has gained attention on social media with a majority attacking him for unwarranted attention seeking.
Junior George Siambe Opiyo on Monday, February 8 posted on his Facebook what was construed as a clarification on an issue with a certain Evelyne Awuor.
" To all my friends, I bear no hand to any lady who will proclaim my name that I've made her pregnant."
According to George, the girl had insinuated that she was pregnant with his baby despite his insistence that they were last together 13 months ago.
With the update, George also uploaded a photo of himself and the said woman.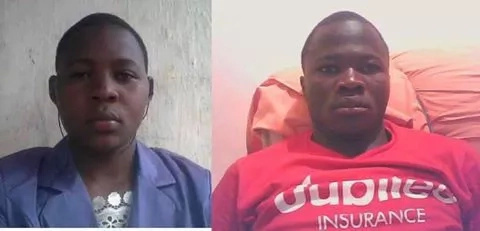 Unfortunately, things did not go as George had foreseen. His status had hordes and hordes of users lashing out at him and calling him out for his stupidity.
Read what users wrote below:
PAY ATTENTION: Get all the latest gossips on NAIJ Gossip App
Winnie Rammy Kajuma "
 Jackline A. Otieno "
Moses Okonkwo "Man you are trending for being stupid. It just forced me to visit your page to confirm this stupid comments."
Paul Ligusi "Just followed to confirm there are such people in this era... Displaying this magnitude of ujinga,,, Remind me his name... Junior George siambe opiyo, grow up man."
Lillian Radido "How did Williamson Group Of Companies employ this man. His stupidity level is way beyond human understanding."
Jullie Kerubo Momanyi "I dint know luos can behave this way all along have bn knowing luos are the best."
As the discussion rumbled on, people known to him exposed him as an irresponsible man who was known for impregnating hapless girls.
Winnie Adhiambo Okumu "This isn't the first lady you made pregnant kijana....before running from your village you made a very young girl pregnant...don't forget I know you from way back..........ulishaharibia mwingine future now you here destroying another."
George later issued a statement on his page, apologizing for his behaviour and deleted his previous post.
He said: "After starting this week trending on news room, social media and every bit of communication i do take this opportunity to apologize to anybody who might feel offended with my sentiments that I passed on social media. This was as a result of anger not only of my name being implicated but on the grounds that parted ways with that lady. People mocked the act as I was going through the comments but it was due to anger. 'If God can forgive me, who am I not to forgive others' Good day everyone."
Na wa oo!
Source: Gossip.naija.ng