- A suspected thief thoroughly beaten up by mob in Soweto
- The unlucky man is accused of trying to steal an ATM card at the Protea Gardens Mall
- The suspect was driving a red VW Polo car, which was flipped upside-down by the furious mob as they tried to forcefully pull him out of his car seat
Residents of Soweto have no mercy when it comes to protecting their properties. This was made clear when a man suspected to be a thief caught their attention.
Hell broke loose when the said suspect, who was driving red VW Polo, allegedly tried to steal a card at the ATM somewhere at the Protea Gardens Mall.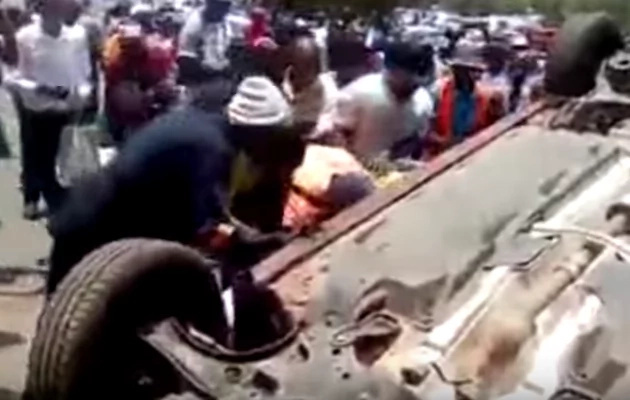 "The guy was driving the red Polo going to the shops. It is alleged that he tried to steal a card at the ATM over there, prompting the brutal attack by the mob," says Mr Vincent Mashiteng, Protea Glen Police Station spokesperson.
READ ALSO: Dead man's grave VANISHES weeks after his funeral, his wife in despair (photo)
The mentioned incident was caught on camera. In the recorded video, a mob of men can be seen flipping upside-down a red VW Polo car, which allegedly belongs to the suspected ATM card thief.
The furious mob then breaks the car's windshield, before forcefully pulling out the driver (who is the suspect) from his seat.
The suspect is then forced to kneel on the tarmac just next to his crashed and overturned car, his clothes stained with blood.
"They continued to assault the man who, luckily, was rescued by the police and rushed to hospital," says Mr Mashiteng.
The suspect was discharged from the hospital the next day. Investigation into his alleged crime is underway.
The police are also looking into a case of malicious damage to the man's property and have warned that those found guilty will be apprehended.
READ ALSO: Drama and chaos as teacher receives SNAKE gift parcel from haters (see photos)
The video of the incident has since gone viral.
Normally, it's never a good idea to take law into your hands. Those who attacked the suspected thief could face charges for damaging his property.
PAY ATTENTION: Get all the latest gossips on NAIJ Gossip App
Stay out of trouble!
Watch for yourself the Soweto mob overturning the suspected thief's car:
Source: Gossip.naija.ng