How far can you go to raise money to provide a pressing need for your family? A Chinese man was seen begging people to flog him as a means to raise money for his son's eye surgery.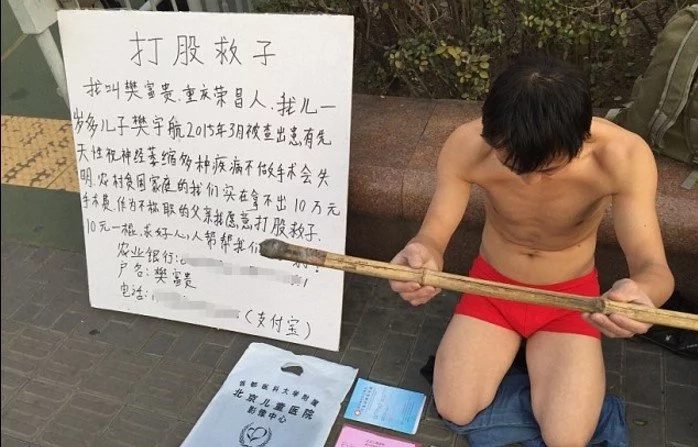 A Chinese father was seen begging people on the streets to flog him for a fee, so he could raise money for his son's treatment.
The man identified as Fan Fugui, knelt on the streets of Beijing last week asking for passersby to flog him for 10 yuan, which is about a dollar and a half (about N750).
PAY ATTENTION: Get all the latest gossips on NAIJ Gossip App
Fan is attempting to raise money for his one year old son's eye surgery which costs 100 000 yuan (about N5million). His son suffers from optic atrophy, aniridia and Axenfeld-Rieger syndrome that might leave him blind if the surgery is not performed in time.
These pictures show Mr. Fan kneeling on the busy streets of Beijing wearing nothing but his underpants. In his outstretched arms he is holding a wooden rod inviting passersby to whip him for a price.
READ ALSO: Motorcyclist offers to sell his kidney to raise his son's school fees
Next to him is a billboard with the words: "Hit my thighs to save my son. Kind-hearted people, please help us."
Many passersby left money but none of them flogged the man.
When asked by a reporter why he chose to do this, Fan answered: "Do you think I enjoy kneeling down on the street? I hope to live a normal life too, but my wife and I can't because we need to treat our child."
He said that he is an irresponsible father because he does not have the means to treat his son's health problems.
Fan stated: "I don't want my child to go blind. I want him to be able to look after himself when he grows up."
Chai! This is touching!
Source: Gossip.naija.ng