- Gladys Kamande has had seven miscarriages, she is blind, was abandoned by her husband who assaulted her while carrying her seventh pregnancy and now she is on live support machines
- She has been forced to move around with an oxygen concentration, an oxygen gas cylinders, a generator and a white cane
After TUKO.co.ke highlighted her story, Kenyans have rallied and raised KSh 2 million out of the KSh 7 million needed for her surgery.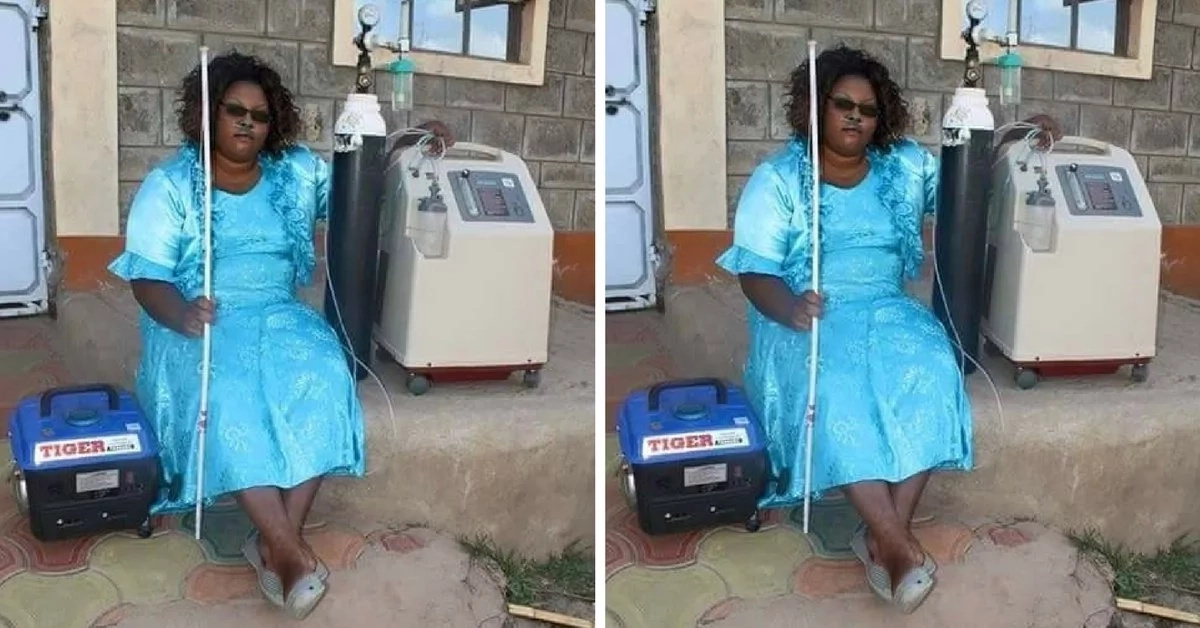 Here is an update;
Her case was too grave. I had to see to be sure.
When my friends and I visited Gladys Kamande, she was caged in her bedroom. The oxygen concentrator was connected to power at the sitting room. (I could also see the generator and 2 gas cylinders.) Our guide Cllr John Kibue Kibs briefed us as the oxygen machine made all the noise. I was later to learn that it had a tube connecting to Gladys nostrils all the way to her bedroom.
First we got the medical documents. We got to learn of her countless visits to various hospitals. But the fact that she had had so many miscarriages made me sad. And the man she could call her soul mate, the person who she could lean on for moral support walked out of her life- her husband.
GLADY KAMANDE has braved the surgical knife for 12 times. Yes, she's been to theatre for 12 times. On one occasion the doctors forgot a surgical tool inside her womb, and they had to redo the operation.
With multiple surgeries, something grave was likely to happen. And it did. One of the surgeries ruptured her optical nerve. She went BLIND.
PAY ATTENTION: Get all the latest gossips on NAIJ Gossip App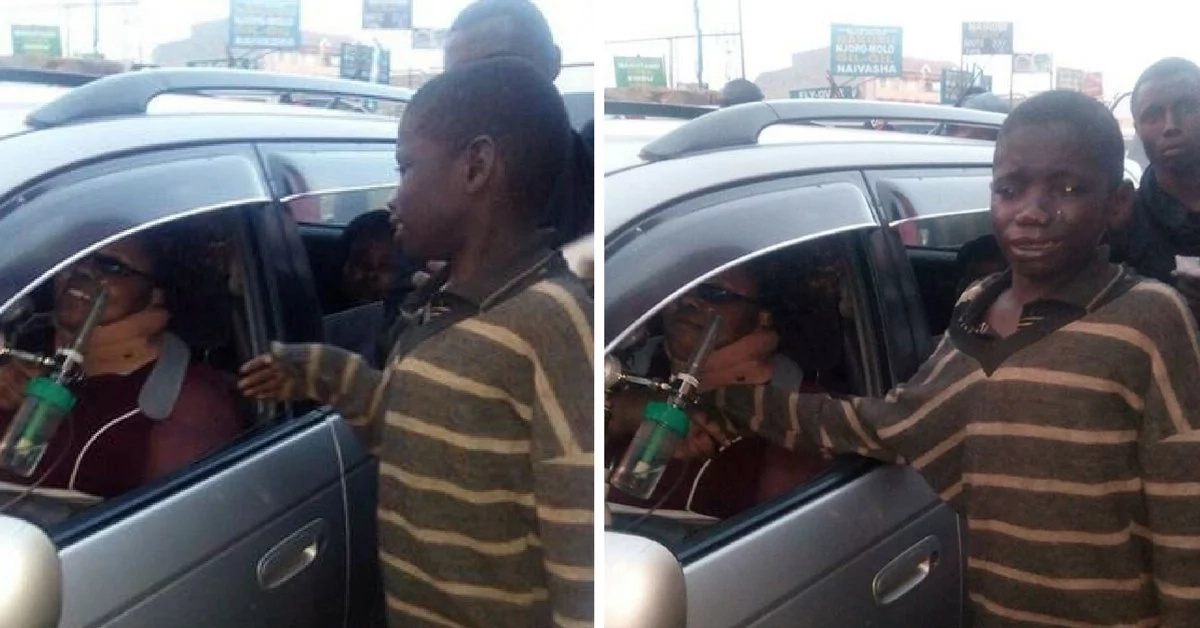 She later suffered from Recurrent Thromboembolism that resulted in her LUNGS COLLAPSING. Her body could no longer support her respiratory mechanism.
All these I was briefed by Kibue, Mercy and Gladys daughter (who has completed secondary school this year) Anne. My friends Kahindo Waraho Prince Paul and Essie Kanyie sat pensively. I also made several calls to her attending doctor who visits her daily for medication.
About an hour of briefing and we later walked to her room. A very strong willed character who has so much Faith in God is all we needed for our stay in that room.
She had a neck brace which I wanted to know the reason behind it. "Siku moja tukitoka hospitali nilianguka hapa nje. Nikazirai lakini nikapata fahamu baadaye. Niliumia mgongo na shingo. Sasa nimewekwa hii brace kwa shingo na pia mgongo nimefungwa".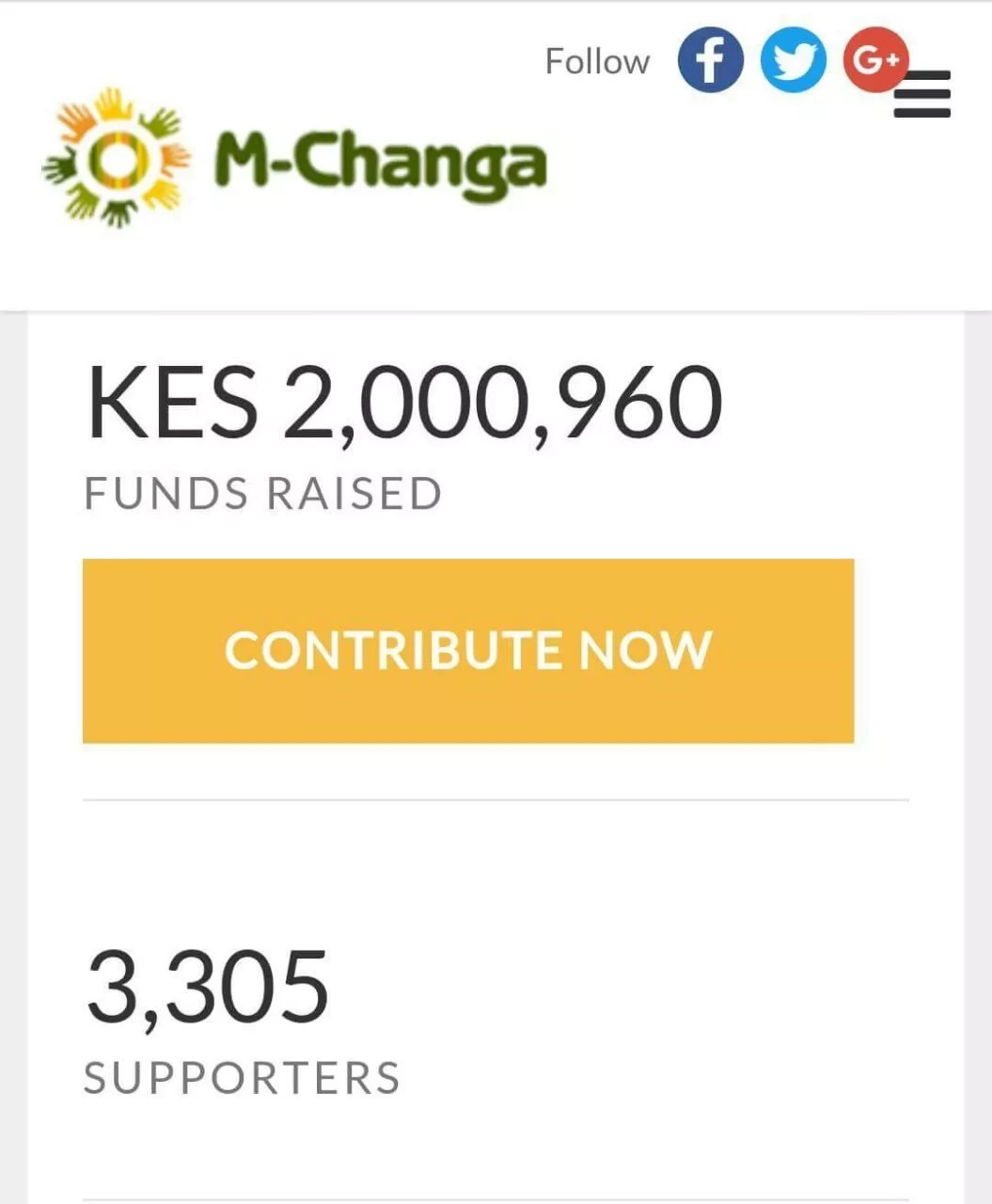 Her legs looked of different colors. Some areas were dark, others white and others chocolate brown. I perceived it had something to do with either poor oxygen supply or adverse effects of long term use of the many drugs she's been on to.
The room is in itself a chemist. I think it has a concrete drug composition any other pharmacy student would need for her learning. Inhalers, injectables, tablets, creams you name it.
GLADYS KAMANDE was the only stronger person in the room as we took her through a 5 hour interview. As we were closing I asked her…
Me: Mum umekuwa na hizi machines kwa muda mrefu sana, kwa nini haujatibiwa na ninaona hata barua za kutafuta hospitali za nje ulishapewa na daktari?
Her: Nilipopatiwa hizo barua niliona mwisho wa maisha yangu. Hata niliongea na msichana wangu nikamwambia akae akijua chochote chaweza kufanyika. Nilishindwa 7M nitatoa wapi. Mamangu ameuza kila kitu kunipeleka hospitali. Huyu landlord wangu amenipea nyumba niishi bila kulipa kwa sababu ya shida. Nitatoa wapi 7M, hebu niambie. Tumejaribu kufanya harambee, tukafanya walk na bado ni kama hatusongi miaka hii yote. Nimengoja tu Mungu atende jambo".
And we left her place traumatized not sure of the way foward.
I want to thank thousands of Kenyans who have in their Kenyan spirit joined the #IamWithGladys campaign. Through kenyan brotherliness we have done 2M in 2 days! Yes 2 million.
You have made me believe 7M is just a number. We will get there.
By the Grace of God we hope to turn around Gladys' many years of pain and suffering to years of celebration. If all goes well, this can be as soon as next week.
There's hope of getting her lungs back. There is a remort chance of getting her sight back. What a lovely Christmas present for our dear Gladys it would be.
If you can help us with little finances, I believe we can make the all needed difference. It's been 6 years since she saw someone with her eyes. It's abeen a multiple years since she had that breath-in breath-out kind of deep breathe. We can do it people.
I want to humbly extend this invite to you and your friends. By way of SHARING THIS UPDATE you will have helped us reach the GLADYS story to them.
You can send financial support to:
Paybill Number: 891300 Account: GLADYS.
2. MPESA - 0718 036537 (Gladys Wairimu) 0716 338018 (Wambui Kamande).
https://secure.changa.co.ke/myweb/share/9023
Cause Progress: 29%
Raised: KES 2,012,940
Targeted: KES 7,000,000
You can also post your message of goodwill right here. Somebody will pass your message to her.
#IamWithGladys.
Watch Gladys below;
Source: Gossip.naija.ng